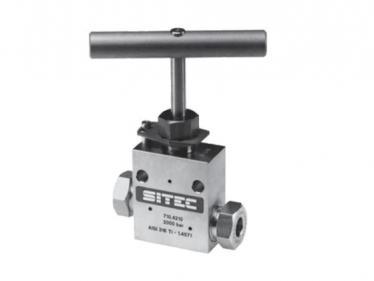 Return to previous page
Hand and metering valves
Hand and metering valves
SITEC high pressure hand and metering valves with metric or imperal HP connections.
| Specifications | |
| --- | --- |
| Pressure | max 10.000 bar / 145.000 PSI |
| Temperature | max fluid working temperature 200°C |
Features and advantages
Maximum reliability and safety at extreme pressures.
Zero leakage provides high integrity and performance.
Stem backlash problems eliminated.
Easy operation – low operating torque.
Satisfies most quality control and certification requirements. 
Material certificates available.
Lower cost – exotic material valves.
Safety weep holes on tubing connections and packing.
Professional sales and service back-up.
Connections for inch and metric SITEC HP tubing.
Maximum fluid working temperature 200°C (400°F).
All valves are factory tested and available short-dated.
Options
6 body patterns. – Replaceable seat valve: Type 6.
Stem tip designs include – Vee, Regulating (710.01) and Metering – 710.02.
Air- and hydraulically-operated valves – see 710.03.
Stem extension for low or high temperatures – 710.05/.06.
Valves with special inserts and all wetted parts in exotic materials – Hastelloy C, titanium – 710.06.
Lower stem made of ceramic, tungsten carbide, etc.
Antivibration connectors for extended service life of tubing on cyclic applications.
Extended drive shaft for high- and low-temperature service.
Drive with incorporated torque limiter.